News
31 Jan 2014
Waternish Pty Ltd
GLNG Upstream Project - QLD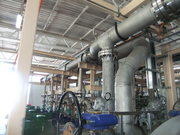 This project involved the fabrication of 89 pipe spools, ranging in size from 15nb sch10 to 450nb sch 40. The material used was grade 316L stainless steel. The spools were welded to AS4041:2006, Class 2A, which required 20% radiography. All pipe spools were then hydrostatically tested to 6,200 kpa with a hold time of 1 hour.
31 Jul 2013
Joe White Malting
Steep Vessels - Port Adelaide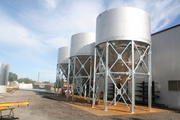 Joe White Maltings is the largest malt producer in Australia.
This project involved the fabrication, cladding, assembly and transport of three "Steep" vessels for the company.
The specification of the Steeps, or conical bottomed tanks, is:-
4mm grade 304 stainless steel for the tanks
galvanised carbon steel for the tank support structure, 150 x 6mm SHS
tank diameter is 6050mm, strake height of 3000mm
capacity of 120 kl
3 air manifolds were fitted to the bottom cone section
50mm insulation is fitted to the strakes and the top cone
28 Feb 2013
Treasury Wine Group
Penfolds Nuriootpa Upgrade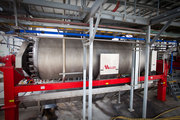 Penfolds was established in 1844 and is globally revered for its iconic wines, including Penfolds Grange.
This involved the design, manufacture and installation of a pnuematic/PLC controlled, registered rotating pressure vessel designed to extract the maximum amount of juice from fermented grapes.
The specifications of the membrane press are:-
Capacity - 20,000 litre
Maximum working pressure - 210kpa
Tank material - 6mm grade 304 stainless steel
PLC control system - Allen Bradley 5/05 SLC
In addition to the membrane press, Millers had to design and manufacture a screw conveying system for the waste produced by this machine, grape skins.
The specifications of these conveyors is:-
Construction material - grade 304 stainless steel
Screw diameter - 480mm, pitch 450mm
Maximum capacity - 100 cubic metres per hour